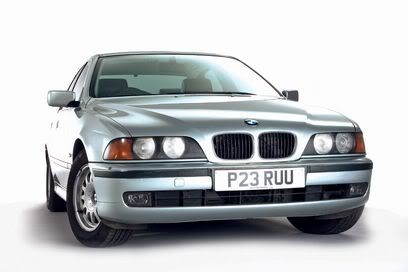 There is a wisdom in buying a second hand car, that in its own day was a class leader. Solidly built cars like BMWs, Audis and Volvos have engines that were very well made and can easily do more than 200,000 miles. So, buying a luxurious car that had only one 'careful' owner and possibly had spent most of its mileage on the motorway, in the 4th gear, is quite sensible idea.
Lets, for example, have a look into 5-Series BMW E39, that came to the market 14 years ago and, at that time, was seriously praised and wanted car. Although the whole series was replaced in 2003, with a new models, it is still mighty good looker with lots of space in the cabin, large boot and hefty 400 bhp. It boasts particularly good acceleration in a mid speed range, which is just lending itself for cruising and overtaking on the motorway.
So how does economics stuck up? Nowadays, for about £2,500 you can get any 1997 O-reg 520i with a shade over 100,000 miles to its clock. If you want to spend £4,000, you can have a good choice of lower spec high-milers. A 2000 U-reg 530d diesel is more, with a sub-100,000 car closer to £7,000. Certain specs demand higher price like SE or Sport specs. Expect to pay extra £1,000 for estates.
If you really have bias towards buying this kind of a secondhand car, than you might look into what is available in a £10,000 to £15,000 price bracket. There you can choose some 02 and 03-platers that are still in a very good nick. Low-mileage 530i and 540i saloons and estates, or the 525d and 530d four-door can cost around £17,000. Expect to pay extra £5,000 for M5.
Running costs
BMW 5-Series are truly modern cars and they have a light built into the dashboard that alerts you about the need for service. Manufacturer recommends three types of service: regular oil service, inspection level one and inspection level two. Those inspection are usually spaced out at 10,000 miles or once a year. At a time of writing, inspections costs were like this: £220 for oil service, £300 for inspection level I and £400 for inspection level II.
But these are main dealer prices, if you bring your car to PMW Ltd. for servicing, we ca give you up to 50% discount on servicing, compared to main dealer prices.
bmw, BMW 5-Series, bmw 525d, bmw 530d, bmw 530i, bmw 540i, BMW secondhand